Product Description
120w AC220V/50HZ small power biogas blowers,aerator,air blower
Please note that this side channel air blower,the voltage is 1 phase AC220V/50HZ.
Certainly,the voltage could be changed as your requirement.
So if the voltage you want is not 1 phase AC220V/50HZ .Please leave the message to me for the voltage you want.
which Phase? 1 phase or 3 phase
which voltage?
which frequency?50hz or 60hz
Thanks so much
Feature :
1.Impeller JQT series gas ring vacuum pump installed on the motor rotor directly and no touch compression completely.
2.As the bearing is installed in the compression chamber outside,It can ensure the machines Max. working possibility under the Max. different pressure.
Configuration:
Power:120
Voltage:1 phase AC220V/50HZ
Max. Pressure:7.5
Vacuum:-5Pa
Max. air output:21/h
Net. Weight:5g
Working principle:
Inlet 1 suck gas firstly,then it goes into side channel 2,the impeller will give gas a speed in the direction of rotation.The centrifugal force of the blade make the gas acceleration and pressure increased.Gas pressure to further increased because of revolving and gas kinetic energy increased.
At last,side channel is becoming narrow at the exit,the gas is squeezed out pressure chamber and exit.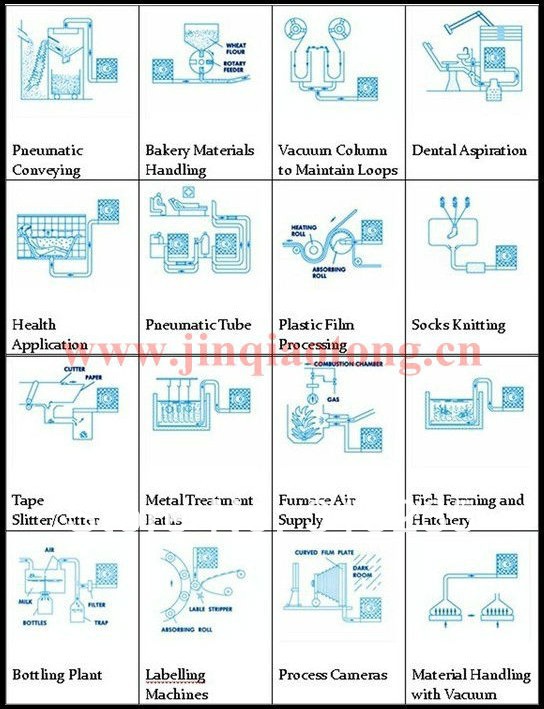 If the quantities is large,it could be sent by ship,the Price will be very lower than express.

If you are interested in our products,Please don't hesitate to contact me.
Additional Information
| | |
| --- | --- |
| is_customized | Yes |
| Application | Industrial Blower |
| Brand Name | JQT |
| Rated Power | 120W |
| Rated Voltage | 1 phase AC220V/50HZ |
| Power Source | Electric Blower |
| Type | Turbo Blower |
| Pressure | High Pressure |
| Model Number | JQT-120-C |
| Power | 120w |
| Pressure | 75mbar |
| Output | 21m3/h |
| Vacuum | -50mbar |
Related Product