Description
Dengshang Home Biogas Plant Waste Chopper/ food waste disposer makes a great addition to the feed preparation sump/sink unit of home biogas plants.
Dengshang home biogas plant waste chopper/macerator is suitable for home biogas plants. It is fitted in at the start of the feed supply pipe into the digester tank.
The purpose of this unit is to ensure that all the feed materials entering the digester are chopped up as small and as fine as possible. When used as  a home biogas plant waste chopper macerator in the Sink/Digester Feed the DSB-390A will increase the amount of biogas produced. It also reduces the risk of digester blockages due to the fine chopping of the waste fed through it.
It has a high rotation speed (RPM) and high torque, this enables it to grind waste food finer and faster than other models.
It provides more grinding power and less jamming, saving you time, water energy and money. Our reliable food waste disposer is equipped with high-speed rotation and is powered with permanent magnet motors.
And, it comes with following features.
Dengshang Home Biogas Plant Waste Chopper/ Food Waste Disposer (Macerator):
* Uses Less Energy
* Lower Current Draw
* Uses Less Water
* With double hollow structured,
* Aluminum grinding system with a lifespan of 10-12 years
* Blunt, durable grinding lugs that can rotate 360 degree
* Fast locking technology, easy to install
* Self-developed time-control equipment (optional accessory)
* Dishwasher interface.
* Casting alloy two-sided rotating heads.
* High-performance rubber oil seals.
* High torque painting silent permanent magnet motor.
* Permanent magnet motor technology grinds food waste quickly, using less water
* Corrosion proof stainless steel rust-free grinding components
* Fast and easy mount system provides a no hassle installation
* Bottom mounted reset button
* Safe for properly sized septic tanks
* Sound insulated for quiet operation
* power core attached
Home Biogas Plant Waste Chopper Specification:
Feed Type: Continuous
Type of Motor: Induction Motor
Grinding Chamber Material: PA66+30%GF
Feature: Air Switch Control, Can Be Connected Dish Washer, Overload Protector, Sound Insulation, Stainless Steel Grinding Elements
Certification: CE, GS, RoHS
Motor: AC motor
Input power: 390w
Capacity: 1200ml
Frequency (Hz): 50
Motor Speed R.P.M(Rpm): 1480
Motor Horsepower (Hp):  0.5
Voltage (V): 110V-130V
Noise level: 20-30dB
Air switch: included
Grind stage: 3  
Auto Reverse: No
Warranty: 3 years
Net&Gross Weight: 7.1 & 8.15 kgs
Dimension(Inch):6.3*6.3*11.9 (L*W*H)
Model Number:DSB-390B
Images of DSB-390B kitchen food waste disposal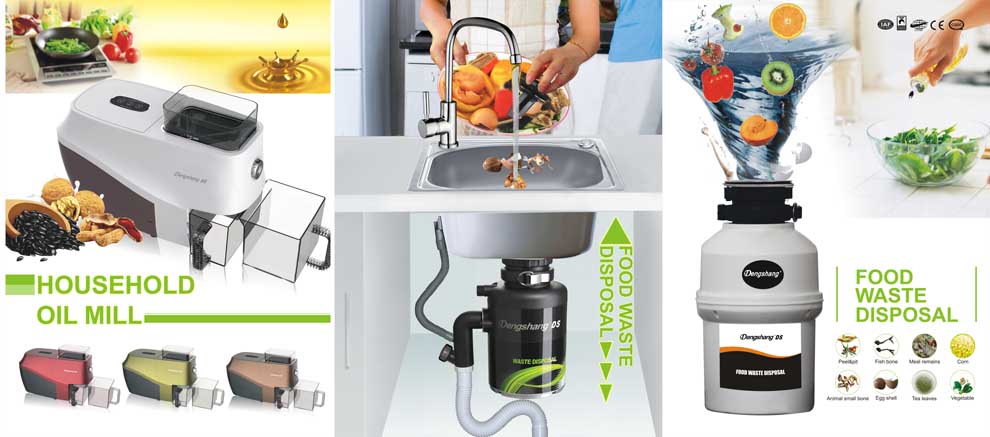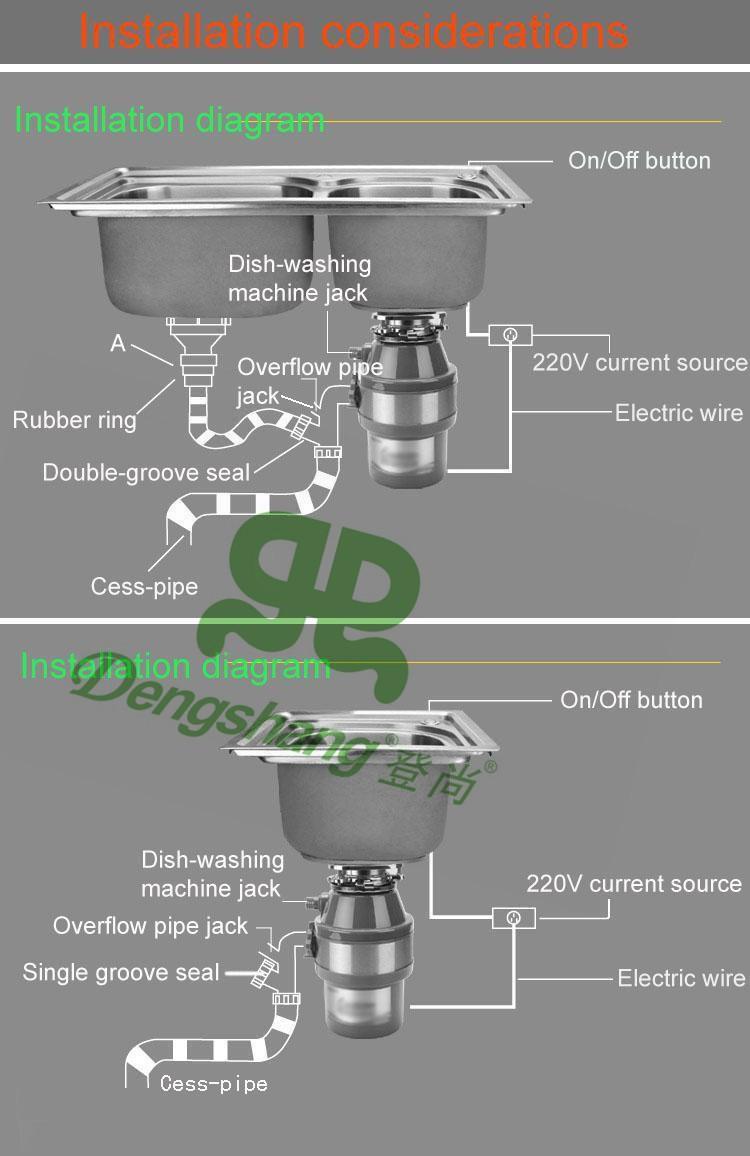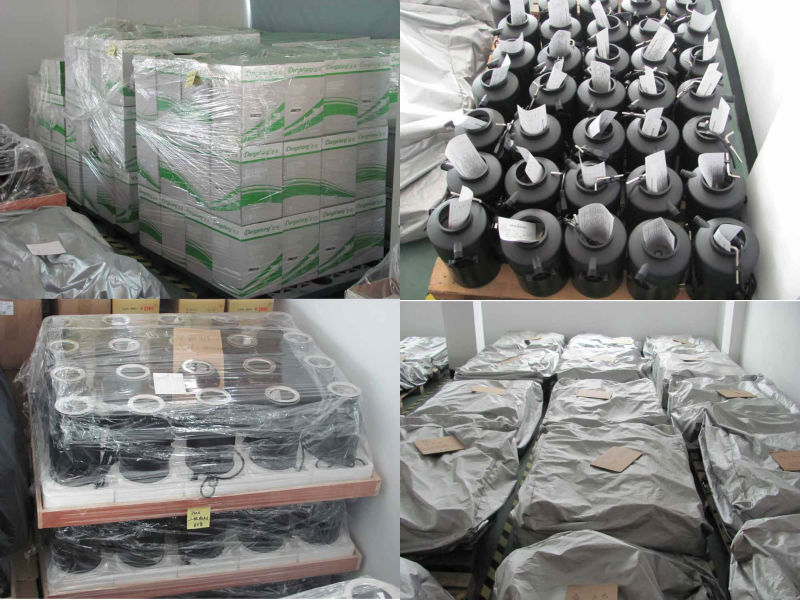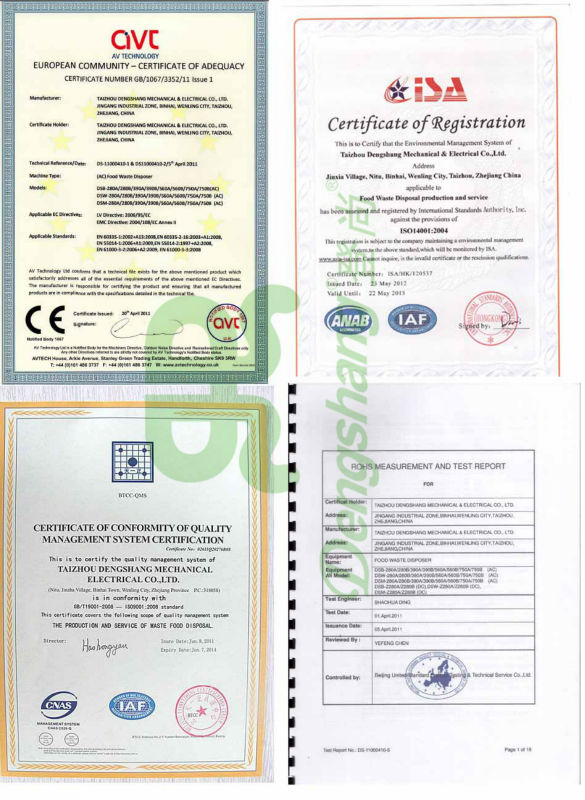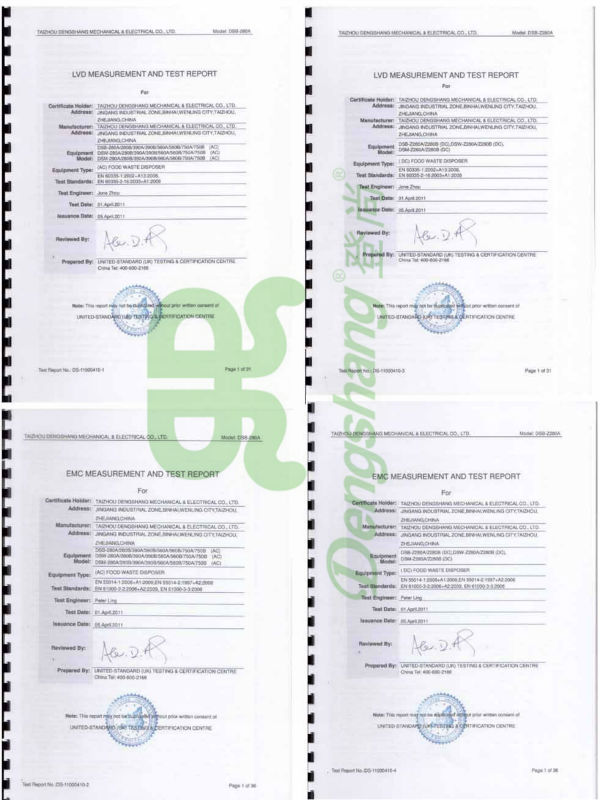 What's in the Box
Dengshang Home Biogas Plant Waste Chopper/ food waste disposer comes with a Dengshang 1/2 hosrepower disposer ,mounting hardware and installation manual
Shipment
When you have ordered our products, we will prepare for you in 1-2days, if we have some in stock, we will ship out ASAP. Then we will according to the actual situation to decide which express shipping company to engage to send you the goods. Sometimes, for instance, if you choose EMS, we may make shipment by TNT, Fedex, UPS, DHL or other express . Before the goods shipped out, we make negotiation.
Payment
Paypal, T/T,alipay and L/C are all accepted.
Feedback
Did we miss any relevant features for this Home Biogas Plant Waste Chopper product? Tell us what we missed.
Would you like to update product info, give feedback on images, or tell us about a competitive price? Your positive comments will be an encouragement for us to drive us for the better.
Additional information
| | |
| --- | --- |
| Voltage (V) | 110 |
| Length (Inch) | 6.3 |
| Width (Inch) | 6.3 |
| Power of Motor (Hp) | 0.5 |
| Frequency (Hz) | 60 |
| Brand Name | Dengshang |
| Feature | Stainless Steel Grinding Elements |
| Height (Inch) | 11.9 |
| Rating (Rpm) | 1480 |
| Feed Type | Continuous |
| Type of Motor | Induction Motor |
| Grinding Chamber Material | PA66+30%GF |
| Certification | RoHS |
Related Product